Why drive a Mercedes-Benz hatchback?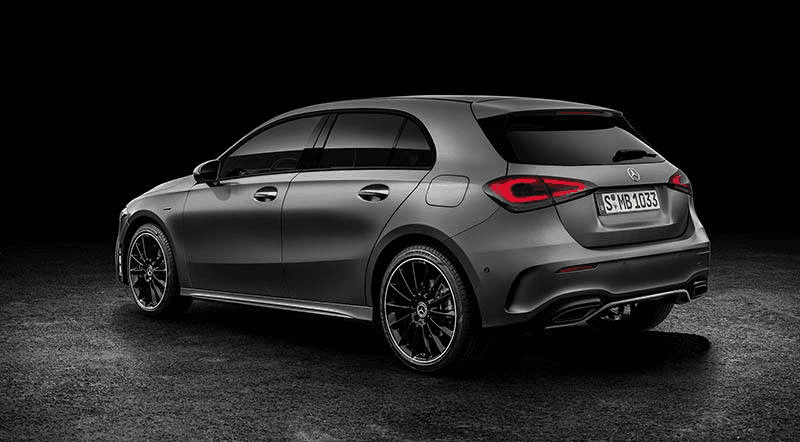 Why drive a Mercedes-Benz hatchback?
Mercedes-Benz is mixing things up at the lower levels of its lineup this year by replacing the B-Class with the new A-Class. In Europe the 2019 A-Class is simply a new generation but for consumers on this side of the pond, it's a brand-new model that will be offered in hatchback or sedan form. Hatchbacks are great vehicles for a variety of different reasons. If you are in the market for a high-end luxury hatchback, then you have come to the right place! In this blog by Mercedes-Benz Kitchener-Waterloo, we take a look at some of the features of the 2019  Mercedes-Benz A-Class Hatchback.
Click here to schedule a test drive at our Mercedes-Benz Kitchener-Waterloo dealership!
Experience the design…
A is for appealing. With an aggressive stance, aerodynamic lines and LED lighting, the A-Class wraps a versatile hatchback body in sporty style. Its premium, ultramodern cabin envelops you in spacious comfort and state-of-the-art technology. Sleek LED headlamps and a wide diamond-block grille radiate from the iconic central Star. More than symbolic, every detail of its wind-honed body reflects the technology within. Both are designed to stay fresh into the future. The A-Class matches appealing value with deep Mercedes-Benz values. The cabin is spacious, and the space is flexible. Standard luxuries include heated front seats, a Panoramic sunroof, and dual-zone, double-filtered climate control.
Experience the performance…
A is for athletic. With 221 turbocharged horsepower, seven speeds and four drive modes, the A 250 and all-wheel-drive A 250 4MATIC Hatchbacks are eager to move out. And with a chassis that says A is for agile, too, their moves are smooth and sure. DYNAMIC SELECT lets you fine-tune your A-Class with the tap of a console button. Four modes (from ECO to Sport, to make-your-own Individual) fine-tune the shifting of its dual-clutch 7-speed, plus its throttle response, steering feel and more. Lightweight, agile 4MATIC all-wheel drive can vary how much torque is sent to the front or rear wheels in response to available traction. It's engineered to inspire confidence in wet weather, and fuel-efficient fun in dry curves.
Experience the innovation…
A is for advanced. With the new Mercedes-Benz User Experience (MBUX), the A-Class cockpit responds to your touch. And with artificial intelligence, it offers what may be the most capable, natural and intuitive speech interface from any automaker. A spectrum of colour and trim options lets you create an A-Class that suits your style. Available 64-colour LED ambient lighting lets you change the cabin to suit your mood. You can even select multi color and dynamic themes. Visionary technology expands your field of view. Beyond the standard rearview camera, you can opt for a multiview 360 camera and Blind Spot Assist. Available Active Parking Assist can help you find an open parking spot, then park your A-Class hands-free.
Driving a hatchback can be a very rewarding experience, especially a luxury high-end hatchback like a Mercedes-Benz A-Class. We recommend that you continue looking through our website, and especially our inventory, to find your next Mercedes-Benz vehicle! Click here to find our contact information, schedule a test drive, or to speak with a representative.