Where To Get A Cargo Van In Waterloo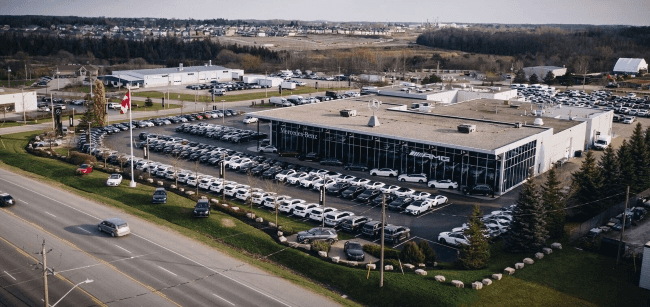 Where To Get A Cargo Van In Waterloo
Whether you are looking for a larger van for personal or business purposes, and are wondering where you can get a cargo van in Waterloo, then we have all of your needs covered here at Mercedes-Benz Kitchener-Waterloo! Mercedes-Benz engineers some of the most capable and cost-effective vans in the automotive industry to date. For more information on two of our most reliable cargo van models offered at our dealership, check out what we have to say below!
Metris Model
Drive your business forward, and obtain a dependable van in the process, with the Metris cargo van available at our facility. Fuel-efficient, low maintenance, ample space, and a hefty towing capacity of 5,000 lbs are all yours to discover. Large and in charge, this van comes equipped with a standard rear-view camera that'll help you get out of any tricky situation. The Mercedes-Benz Metris offers drivers a cargo volume that is 36% larger than the competition. The maintenance intervals of this cargo van are astounding, especially when compared to other vehicles in its class. Boasting longer interval ranges, the Metris lets drivers spend more time on the road, and out in their field, then in the repair shop.
Sprinter Model
One of the brand's top-selling vans, the Sprinter, was built to get the job done. The most significant benefit of driving a Sprinter cargo van is the vehicle's low fuel costs. This cargo van is one of the most fuel efficient vehicles in its class and throughout the industry. As the single highest operating expense, fuel costs can quickly add up, so why not drive a sprinter and ensure optimal savings for you and your business. This model, like the Metris, also reduces the required amount of maintenance, providing longer intervals between routine services. When taking into account all aspects of ownership, the Sprinter outshines the competition with just how well this vehicle retains its overall value. Depreciation happens at a much lower rate than other cargo vans on the market and commands a higher resale value, for maximum return with minimum expense
Contact Us
To obtain a cargo van In Waterloo, one that can provide you with all of the above benefits and more, then stop by Mercedes-Benz Kitchener-Waterloo today! We would be happy to help you secure a van that works for you or your business, here at 125 Centennial Road in Kitchener.
Please feel free to continue to browse our website at your leisure, or click here to find our contact information online, and fill out our contact form for further assistance.