Test drive the Mercedes-Benz G-Wagon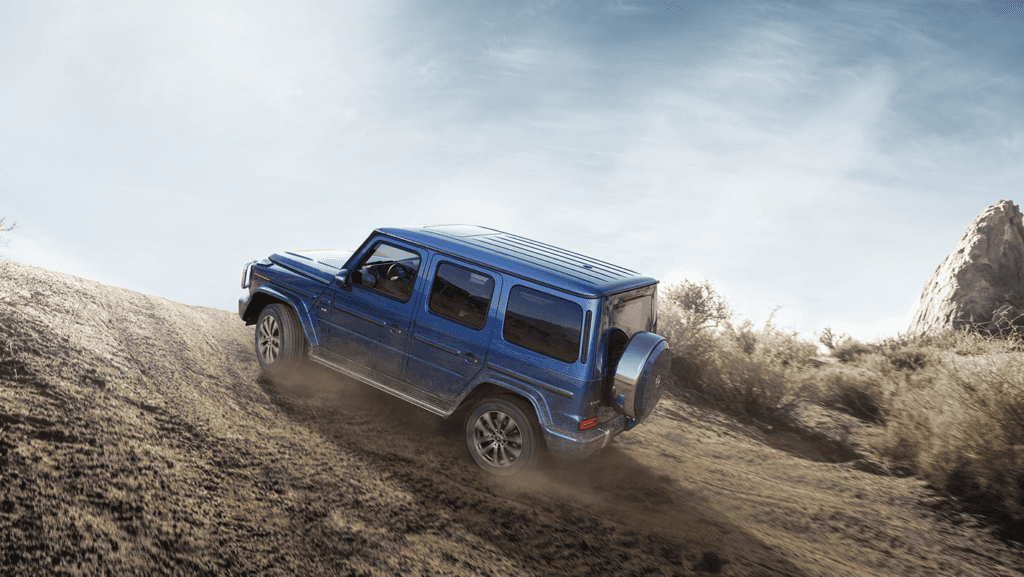 Test drive the Mercedes-Benz G-Wagon
The Mercedes-Benz G-Wagon is fully designed for 2019. Some features include a more spacious interior, smoother ride, and strong off-road capabilities. These are just some of the key features to keep an eye on if you plan to test drive the Mercedes-Benz G-Wagon.
Performance
A twin turbo V8 engine that produces 416 horsepower and standard all-wheel drive powers the nine-speed automatic G-Wagon. The acceleration is evident with a 0-60 mph time of 5.5 seconds. An independent front suspension and a lower center of gravity makes for a smoother ride compared to earlier models. This SUV is sophisticated and modernized, but still has phenomenal off-road abilities thanks to locking differentials that can lock all four wheels together to ensure the same speed, avoiding wheelspin and improving traction on all surfaces.
Cabin
A luxurious interior offers more passenger and cargo space than previous incarnations of the Mercedes-Benz G-Wagon. Heated front and rear seats, leather upholstery, and massaging front ventilated seating make for an ultra-comfortable and smooth experience. The Seat Comfort package offers even more levels of comfort. The driver seat has a power adjustable steering column, heated steering wheel, and Nappa leather upholstery, and incredible driver position for strong visibility.
Tech. Highlights
A digital gauge display is clear and easy to use for the driver. A large infotainment system with navigation makes it easy to scroll through the screens for a litany of options and features. Three zone automatic climate control also ensures that everyone is comfortable. Driver aids like adaptive cruise control, active lane centering, front collision mitigation, and automated emergency braking make the Mercedes-Benz G-Wagon not only a stylish option, but a safe one. Pre-Safe also configures the cabin in the best way to minimize impacts from collisions on passengers.
Come in today
Mercedes-Benz Kitchener-Waterloo is the go-to dealership for residents in KW looking to test drive the Mercedes-Benz G-Wagon. Our facility is conveniently located at 125 Centennial Road, Kitchener, ON. We look forward to welcoming you into our automotive family!
Please feel free to continue to browse our website at your leisure, or click here to find our contact information, fill out our contact form for further assistance, or schedule a test drive one of our G-Wagons today!