Test Drive The Mercedes-Benz AMG GT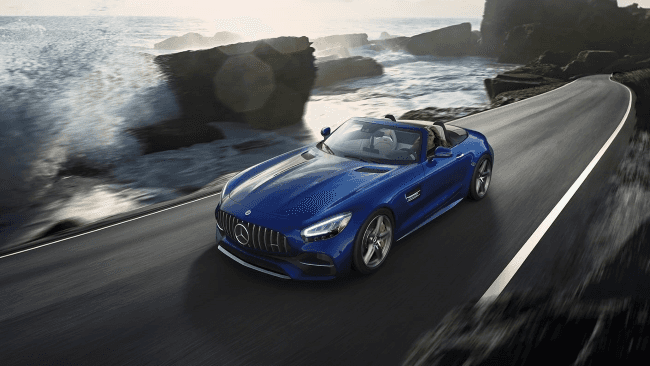 Test Drive The Mercedes-Benz AMG GT
Performance, power, and prestige- Mercedes-Benz AMG models are known around the world for producing the highest level of all three of these characteristics. For a vehicle that offers more, consider our top-tier models here at Mercedes-Benz Kitchener-Waterloo. In this article, we will discuss the superior nature of the AMG GT model lineup, so stay tuned for details before heading over to our Kitchener dealership to test drive the Mercedes-Benz AMG GT model of your choice, and be met with sheer driving pleasure with every turn.
AMG GT C Roadster
With the summer season in full swing, now is the time to experience the heart-thumping drive of the GT C Roadster. Stay calm and composed with the top up, or transform your ride in 11 seconds, as the top comes down and the fun really begins with an open-air supercar ride. No need to stop the enjoyment to wait for the soft top, as it can open and close at speeds up to 50 km/h.
AMG GT C Coupe
Sleek design and satisfying engine rumble await you when you take up residence in the driver's seat of the latest GT C Coupe. Taking cues from the rich Mercedes-Benz heritage of motorsports, this model can propel you forward with its ultimate thrust and performance power. Give the front-mid-mounted, handcrafted AMG 4.0L V8 it's head and sprint from standstill to 100 km/h in just 3.7 seconds, as the master-crafted engine unleashes 550 horsepower at your command.
AMG GT 4-Door Coupe
For the first time ever, in four-door form, the GT offers a thrilling ride to more. Share the adventure with your friends and family and take them on a drive of a lifetime in this practical yet performance-oriented model.
Test Drive Today
Test drive the Mercedes-Benz AMG GT model of your choice, and on your terms. Our dealership is now offering at home, overnight, and extended test drive options to allow all of our customers to get a real and raw feel for the expertly engineered piece of machinery working underfoot. Visit us at Mercedes-Benz Kitchener-Waterloo and our conveniently located dealership at 125 Centennial Road in Kitchener, to take control behind the wheel of the AMG GT model of your choice this summer season.
Please feel free to continue to browse our website at your leisure, or click here to find our contact information online, and fill out our contact form to learn more about the brand's top models, or to schedule that test drive today!