Test drive a 2020 Mercedes-Benz GLC300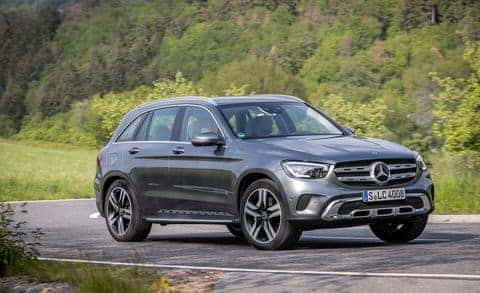 Test drive a 2020 Mercedes-Benz GLC300
A model of success: Introducing the 2020 Mercedes-Benz GLC. Grips the road, and your attention. Are you looking for an SUV with captivating brilliance from healights to tailpipe? The all-new 2020 Mercedes-Benz GLC300 is available at our Mercedes-Benz Kitchener-Waterloo dealership, and if you are in the market for a new SUV, we encourage you to schedule a test drive today! However, simply reading about the features of this new SUV can only do it so much justice. A test drive is the only true way to experience all that this high-end Mercedes-Benz vehicle has to offer! In this blog by Mercedes-Benz Kitchener-Waterloo, we take a look at some of the features!
Click here to begin browsing through our inventory of vehicles at Mercedes-Benz Kitchener-Waterloo!
The 2020 Mercedes-Benz GLC300 is beautifully sculpted and intelligent…
Prepare to grip the wheel of the all-new 2020 Mercedes-Benz GLC. This SUV delivers a captivating brilliance that runs from head to tailpipe. Illustrating the meaning of versatility, its spaciousness, practicality, heightened performance and comfort are just the beginning of its effortlessly elegant character.
Revel in the latest interactive technology with the Mercedes-Benz User Experience multimedia system (MBUX). Designed to learn your preferences and intuitively anticipate your needs, MBUX uses Intelligent Voice Control along with Augmented Reality for the smoothest navigation. And the simple "Hey Mercedes" prompt unlocks a world of connectivity, setting a new benchmark in industry standards.
This rugged machine is more than a powerhouse revving for rugged terrain. It is also appointed with pioneering safety features providing assurance in every ride. Confidently forge forth with Mercedes-Benz Intelligent Drive technologies like Active Brake Assist, Active Lane Change Assist and PRE-SAFE® Sound.
Its unbridled power ignites the senses with a next-generation 2.0-liter inline-4 turbo engine. Turning torque into traction, this sculpted athlete outputs significantly lower fuel consumption and reduces CO2 emissions.
Your 2020 Mercedes-Benz GLC300 comes with the Pfaff Difference!…
The Pfaff difference is all about selling you a car the way you want to buy it. We're no longer operating with old-school sales tactics where different customers get different deals. With upfront pricing, you won't have to negotiate. We won't add any additional fees to your deal. If you have a vehicle to trade, we will give you a written offer with no obligation to buy any of ours. And you can't buy the wrong car with our return and exchange policy. Visit us today to experience the Pfaff difference.
If you are in the market for a premium quality high-end SUV in the Waterloo area, then the 2020 Mercedes-Benz GLC300 could be a good fit for you. If you are looking for more information than what is mentioned above, then we encourage you to schedule a test drive at our Mercedes-Benz Kitchener-Waterloo dealership today! Click here to find our contact information, schedule a test drive, or to speak with a representative.