Should I buy a Mercedes-Benz GLE Coupe?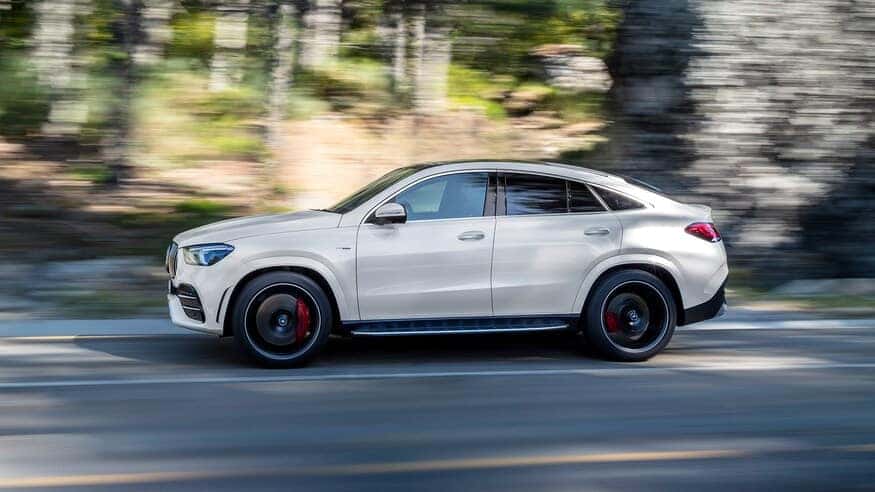 Should I buy a Mercedes-Benz GLE Coupe? 
The soul of a sports car, the skills of an SUV, and the elegance of a coupe reunite not just for a new generation, but regeneration of every measure of Mercedes-AMG passion. Electrified torque whisks you ahead amid a range of driving wizardry. If you are looking for information about if you should buy a Mercedes-Benz GLE Coupe, then you have come to the right place at Mercedes-Benz Kitchener-Waterloo! If you are looking for a Mercedes-Benz Coupe, then that includes that AMG GLE 53 and the GLE 63 S. In this blog by Mercedes-Benz Kitchener-Waterloo, we share some information about these very high-end Mercedes-Benz coupe vehicles. 
Click here to begin browsing through our inventory of Mercedes-Benz vehicles. 
Experience three kinds of boost to get you going
Twin-scroll turbocharging is fortified by 48-volt EQ Boost that can add 184 lb-ft of electric torque. A 429-hp turbo inline-6, further boosted by an electric compressor, takes the GLE 53 to 100 km/h in 5.3 seconds. A handcrafted 603-hp AMG Biturbo V8 catapults the GLE 63 S in just 3.8. The AMG SPEEDSHIFT® TCT 9-speed applies an array of performance enhancements across a wide range of rpm. The multiple modes of AMG DYNAMIC SELECT let you reap such benefits as rev-matched downshifts, and quickened manual gear changes via the shift paddles. AMG Performance 4MATIC+ sends the engine's output to the wheels that can best transmit power to pavement, or torque to the terrain. From surefooted launches to confidence in and out of corners, the torque split can vary from AWD to 100% RWD. An electronic limited-slip rear diff further sharpens the GLE 63 S.
These vehicles grip every curve and corner and sound like beasts
The road reveals the soul within the GLE Coupe's muscular body. It's a holistic approach to performance that you can hear, feel, and best of all, enjoy having in your hands. The GLE Coupe's performance innovations are not only advanced, but they're also adaptable. The AMG Sport Exhaust can revel in the GLE 53's revs, or mellow out when you do. The AMG Performance Exhaust, standard on the GLE 63 S and a GLE 53 option, use dynamic flaps to go from cool to a crescendo. You can vary its audio output directly or via the modes of AMG DYNAMIC SELECT.
Choose your driving modes and brake with ease 
AMG DYNAMIC SELECT lets you fine-tune your GLE's performance via a console control or the available steering-wheel AMG DRIVE UNIT. Seven programs, from Comfort, Sport+, and Sand to your own Individual mode, can vary throttle mapping, shifting, suspension, and more. The GLE 63 S adds a track-ready RACE mode. The strengths of the AMG Performance Braking System starts where some cars stop. Standard multipiston front calipers grasp 400mm perforated discs on either coupe. Racing-bred Ceramic Composite brakes are a GLE 63 S option. 
Air suspension for a comfortable ride 
AMG RIDE CONTROL+ air suspension optimizes driving dynamics and comfort. Its 3-stage adaptive damping responds to roads, loads, and driving modes. It can lower at speed to enhance stability and efficiency, or you can raise it to negotiate ruts and ramps. The GLE 63 S adds AMG ACTIVE RIDE CONTROL with an innovative roll stabilization system.
These Mercedes-Benz vehicles can be found at our Mercedes-Benz Kitchener-Waterloo dealership. If you are still wondering if you should buy a Mercedes-Benz GLE Coupe, then we encourage you to visit us today and check out the Mercedes-Benz GLE AMG 53 and the Mercedes-Benz GLE 63 S. Click here to learn about the Pfaff Difference. 
Click here to find our contact information, schedule a test drive, or to speak with a representative.