Mercedes GT 4 Door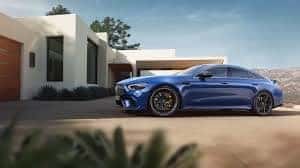 Mercedes GT 4 Door
In recent years, car brands are have been continuously putting forth outlandish products and ad campaigns to win over drivers with nothing but flash and no substance. With Mercedes-Benz, receive visionary design and structural integrity without the pomp. Mercedes lets their advanced technology and innovative engineering speak for itself. Pfaff Mercedes is proud to introduce the all-new 2019 Mercedes-AMG GT 4-Door Coupe, born to perform, developed to outperform.
Bold
The bold design of this year's AMG GT comes down to the reinforced structure, taken explicitly from our racing cars and adapted to ensure maximum performance and safety for a heart-pounding, mouth-watering drive.
Forceful in design and keeping with its sporty nature, this Mercedes GT offers AIRPANEL active air control system for fluid aerodynamics. This car is so daring that there is even a customized AMG fragrance designed to match the flashy spirit of the Mercedes brand. Visit Pfaff Mercedes to experience the feel, and smell, of the GT Coupe today.
Brilliant
The Mercedes-AMG GT 4-Door Coupe isn't just bold, it's brilliant. This vehicle boasts an electronically controlled limited-slip rear differential, rear-axle steering, stability control, and all-wheel-drive system, all working in unison, thanks to the AMG Dynamics system- the brain behind the brawn.
This system allows the driver the choice of four levels- basic, advanced, pro, and master- each one elevating the driving experience to new heights. With added driving modes including, slippery, comfort, sport, sport+, race, and individual, this technologically advanced system provides coverage in every instance by controlling the engine and transmission response, along with the suspension damping, weight, steering, and active exhaust setting.
Seamlessly switch between the modes without taking your eyes off the road, thanks to a steering-wheel-mounted knob. Always be prepared, no matter what road conditions meet your wheels, thanks to Mercedes innovation at Pfaff Mercedes.
Staggering
With various performance and design packages on offer at Pfaff Mercedes, this four-door coupe is sure to impress even the pickiest of drivers. With three different engine options provided for each of the models, allowing for just as much choice under the hood.
If you really want to impress, splash out for the  GT 63 S, boasting the choice of two different handcrafted AMG V8s, with the most powerful delivering 630 hp, a maximum torque of 664 lb-ft, and performing an astonishing 3.1-second acceleration from 0 to 100!
Contact Us
If you are looking for maximum thrills and boundless possibilities, the Mercedes-AMG GT 4-Door Coupe, has no parallel. With numerous styles and packages offered at Pfaff Mercedes, there is no better place to obtain this exhilarating feat of engineering.
We invite you to continue to peruse our website at your leisure or click here to find our contact information, fill out our contact form for further assistance, or schedule a test drive of the GT today.