Mercedes EQC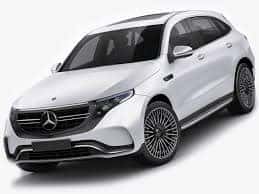 Mercedes EQC
Mercedes-Benz is one of the few automakers in the industry that can produce luxury while still respecting efficiency and sustainability. This statement is true now more than ever, as Mercedes unveils the EQC, a fully electric compact SUV, as the newest innovative design by this quality brand. As Mercedes looks to the future with the all-new EQC, so does Pfaff Mercedes, with the release of this groundbreaking vehicle later this year.
New Age of Electric
With more and more of the world's population turning their attention to electric cars, Mercedes-Benz created the EQC, an electric vehicle that delivers satisfaction in every aspect. This model is the first of the Benz brand that was founded under the product and technology brand 'Mercedes-Benz EQ,' spearheading the way for all-electric vehicles bearing the three-pointed star.
In a few short years, the Mercedes brand aims to expand this line to include ten new models! Keep an eye on our Pfaff Mercedes dealership to see the new arrivals in the future.
Pushing Boundaries
With an all-new drive system to go along with the all-new model, the Mercedes EQC contains compact electric drivetrains at each axle, lending to the vehicles sporty characteristics and confidence boosting drive.
Showcasing 402 hp and 564 lb-ft of torque, and an acceleration of 0 to 100km/h in just 5.1 seconds, and fast-charge capabilities boosting the battery from 10 to 80 percent in only 40 minutes, this all-electric SUV is well equipped to handle whatever the roads might throw your way.
Technologically Savvy
With the ground-breaking strides of the EQC in the world of electric cars, Mercedes wanted to outfit their vehicle with the technology to match it. The Mercedes-Benz User Experience (MBUX) with Voice Control is only the beginning. With a multimedia system based on artificial intelligence and ECO Assist System with comprehensive support for electric driving, the EQC has all of the amenities and luxuries you could want in an SUV.
There are also an array of other available safety technology options that the Mercedes brand is known for, including the Active Distance Assist, DISTRONIC®, Active Blind Spot Assist, Active Lane Keeping Assist, and the PRE-SAFE® PLUS! Not only does this car outdo other electric vehicles on the market, but with the available safety options, there is no comparison.
Contact Us
When it comes to electric vehicles, there is no parallel to the Mercedes EQC. With numerous styles and finance packages offered at Pfaff Mercedes, there is no better place to obtain this marvellous feat of engineering.
We invite you to continue to peruse our website at your leisure or click here to find our contact information or fill out our contact form to have one of our Pfaff Mercedes friendly advisors get back to you.