Mercedes Cup 2018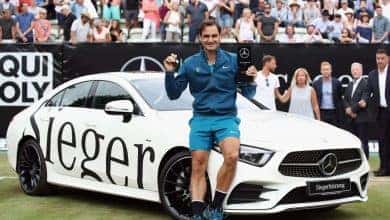 Mercedes Cup 2018
Whether you are an avid tennis fan or an automobile connoisseur, the Mercedes Cup of 2018 had something for everyone. This exciting tournament took place over the summer, bringing together players from all over the world to compete for the cup title, prize money, and even a Mercedes vehicle! The Mercedes brand has been the official sponsor and official car of the US Open since 1996. In this article by Pfaff Mercedes, we will be discussing the 2018 Cup and how it relates to the Mercedes brand!
The Location
The city of Stuttgart is a place full of history. The Mercedes-Benz brand has its headquarters in the city of Stuttgart, an area known as being the Cradle of the Automobile. Stuttgart has this prestigious title as it is the birthplace of the automobile, and continues to inspire the creation of high-end brand vehicles. The city also hosts the annual Stuttgart Open, an ATP World Tour 250 series tennis tournament, held since 1916 in the city.
It was here that the 2018 Mercedes Cup was played out.
The Tournament
The 41st edition of the Stuttgart Open took place at the Tennis Club Weissenhof. The men's tennis tournament played on the facility's outdoor grass courts from June 11th to June 17th. Millions watched from the stadium and home televisions to witness this explosive tournament take place.
The Winner
It was Roger Federer, the Swiss tennis player, who took home the winning title of the 2018 Mercedes Cup, gaining first place in his third go at the tournament. Federer made his way to the top by beating out Milos Raonic, a Canadian player, in a finals match that only lasted a cool 79 minutes.
With his win, Roger Federer not only takes home a whopping 117,030 Euros (177,989 Canada dollars) in prize money, but he also lays claim to the winner car, a Mercedes CLS 450 4Matic Coupe. This first-rate tennis player was more excited by the car, offering up some insight into his plans later that day during his winner's interview on the Center Court, "I'm driving home this afternoon to Switzerland, so it comes in handy that I heard there was a car to win here."
Federer's win makes it his 98th tournament title.
Contact Us
We may not be able to offer you the title of Mercedes Cup 2018 winner, but our inventory of Mercedes CLS 550 4MATIC and the AMG CLS 63 S 4MATIC can see you driving out of the Pfaff Mercedes dealership with a winner's car.
Please feel free to continue to peruse our website at your leisure, or click here to find our contact information, fill out our contact form for further assistance, or schedule a test drive of the CLS today and feel like a winner!