Mercedes-Benz SUV Collection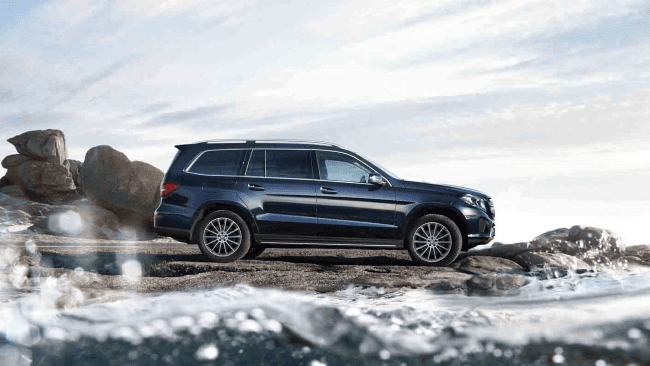 Mercedes-Benz SUV Collection
Car buyers interested in obtaining a vehicle that offers spacious cabins, confident driving capabilities in every situation, and enough luxury and cutting-edge technology to satiate any appetite for modern convenience, should consider purchasing from the Mercedes-Benz SUV collection, currently on offer here at Mercedes-Benz Kitchener-Waterloo. To learn more about this great lineup, and what these high-quality, elegantly engineered SUVs can do for you, continue to read below, before visiting our dealership to test drive your desired model today!
A Model For Everyone
This elite brand's SUV collection offers a wide range of models and trim variants to suit an array of budgets and driving needs. Our large and in charge Mercedes-Benz models provide owners with roomy interiors, with enough space to fit passengers and cargo comfortably, with greater convenience and utility for short and long driving journeys alike. With the GLA, GLC, GLE, and the GLS, both new and used, currently ready and waiting to be driven off of our lot, at a great price, now is the time to secure the perfect SUV model for yourself!
Standard 4MATIC
Now in the 2019 lineup, all current SUV models come standard with 4MATIC, fully variable all-wheel drive. Mercedes-Benz has brought out a newly engineered version of their 4MATIC, possessing the ability to automatically send 0 to 100% of the engine's torque to the front or rear axle depending upon the driving situation you are in. Thanks to the transfer case, with a multi-disc clutch, the system can vary the torque distribution based on the driving conditions your Mercedes-Benz SUV is faced with. The new and improved 4MATIC provides the driver with a system that allows for precise response and calibration, offering enhanced handling on any road surface and in all inclement weather conditions.
Test Drive Today
If you would like to test drive a specific model from the Mercedes-Benz SUV collection, a visit to Mercedes-Benz Kitchener-Waterloo is all it takes, as our dealership is locally situated at 125 Centennial Road, in Kitchener. We offer excellent test driving options for all of our customers. Experience all that Mercedes-Benz has to offer firsthand, and you'll never want to drive anything else again!
If you would like to know more about our quality SUV lineup, please click here to find our contact information online, send us a message with your inquiry, and one of our knowledgeable and friendly staff members will get back to you in no time.