Mercedes-Benz SUV collection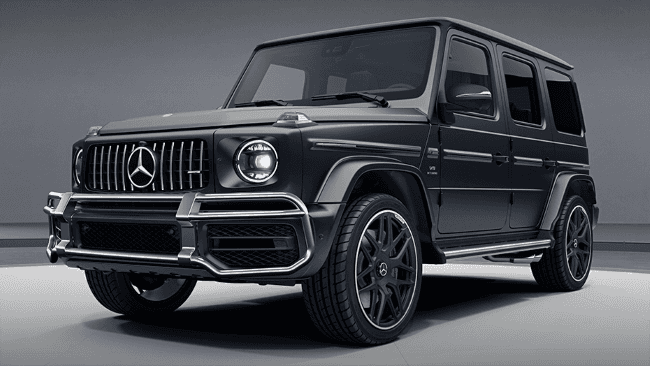 Mercedes-Benz SUV collection
The Mercedes-Benz SUV collection is a true standout for brand. Two big contributors that make up the collection are the G-Wagon and the GLC 300.
Mercedes-Benz G-Wagon
A twin turbo V8 engine that produces 416 horsepower and standard all-wheel drive powers the nine-speed automatic G-Wagon. The acceleration is evident with a 0-60 time of 5.5 seconds. An independent front suspension and a lower center of gravity makes for a smoother ride compared to earlier models in the SUV collection. The G-Wagon is sophisticated and modernized, but still has phenomenal off-road abilities thanks to locking differentials that can lock all four wheels together to ensure the same speed, avoiding wheelspin and improving traction on all surfaces.
A digital gauge display is clear and easy to use for the driver. A large infotainment system with navigation makes it easy to scroll through the screens for a litany of options and features. Three zone automatic climate control also ensures that everyone is comfortable. Driver aids like adaptive cruise control, active lane centering, front collision mitigation, and automated emergency braking make the G-Wagon a stylish and safe option in the Mercedes-Benz SUV collection.
Mercedes-Benz GLC 300
Adaptive cruise control utilizes the gas and brakes well, and can even bring the GLC 300 to a complete stop if needed. The nine-speed automatic transmission is a lot smoother than competitors, and handles well around windy roads. The handling doesn't feel too big, and stays consistent through turns. The GLC 300 has enough speed to pass on highways with a 0-60 mph time of 6.7 seconds, and comes with powerful brakes that are easy to modulate. This makes it a strong contributor to the Mercedes-Benz SUV collection.
The Mercedes' COMMAND system offers plenty of features and adjustable settings. A rearview camera comes standard along with top of the line accident avoidance technology. Adaptive cruise control allows for the correct safe distance from cars ahead, and doesn't panic brake when another vehicle jumps ahead. Lane keeping and steering assist also make for a simpler semi-automated driving experience. The Mercedes-Benz GLC 300 has a 8.4 inch infotainment display with Burmester surround sound system that integrates devices using Mercedes-Benz audio interface. The intuitive menu structure, and dial controller are simple to use.
Come in today
Mercedes-Benz Kitchener-Waterloo is the dealership for residents in KW looking to learn more about the Mercedes-Benz SUV collection. Our facility is conveniently located at 125 Centennial Road, Kitchener, ON. We look forward to welcoming you into our automotive family!
Please feel free to continue to browse our website at your leisure, or click here to find our contact information, fill out our contact form for further assistance, or schedule a test drive today!