Mercedes-Benz Sprinter In Canada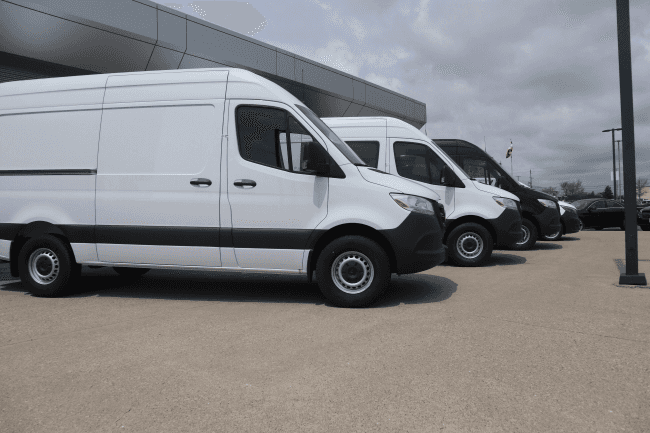 Mercedes-Benz Sprinter In Canada
For seven consecutive years, the Mercedes-Benz Sprinter models have won Vincentric Best Fleet Value in Canada™, from 2012 to 2018. This high-end brand might be well known for their luxury vehicles, but they know how to engineer vans just as dependable! Business owners in search of a Mercedes-Benz Sprinter in Canada can choose from the entire lineup of quality vans, here at Mercedes-Benz Kitchener-Waterloo. Continue to read below as we discuss the different Sprinter models available to you!
Cargo Van
As one of the most popular Sprinter models on the market, this cargo van by Mercedes-Benz is sure to get any job done. With a choice of five different models, ranging in payloads from 3,854 pounds to 6,647 pounds, this Sprinter achieves the best-in-class cargo volume and payload capacity compared to the competition. Canadian Black Book® has awarded this vehicle the Best Retained Value Award in the Full-Size Van category, for its eighth year now, possesses one of the lowest depreciation rates in its class.
Passenger Van
The Sprinter Passenger Van is available in two models, the 1500 and 2500, with varying engines, payloads, and transmission, yet one thing stays the same, each can seat up to15 people, with ample headroom and a comfortable cabin. This van comes equipped with an electric sliding door and electric sliding step for easy loading and unloading of your passengers, as well a Thermotronic Automatic Climate Control offering a dual-zone air conditioning system to keep everyone cool and comfortable.
Crew Van
With a choice of 4 models of the Crew Van, you'll gain high roofs and powerful diesel engines in all. This van offers more versatility than other models, as it provides seating for five, and thanks to the removable 3-seat bench, you can double your ample cargo capacity to adapt your vehicle for all kinds of jobs.
Contact Us
If any of these models from the Mercedes-Benz Sprinter lineup In Canada have peaked your fancy, then visit us at Mercedes-Benz Kitchener-Waterloo to test drive one for your business. Visit our dealership conveniently located at 125 Centennial Road in the Kitchener area today.
Please click here to find our contact information online, and fill out our contact form for further assistance, or schedule a test drive of your desired Sprinter today.