Mercedes-Benz maintenance at the dealership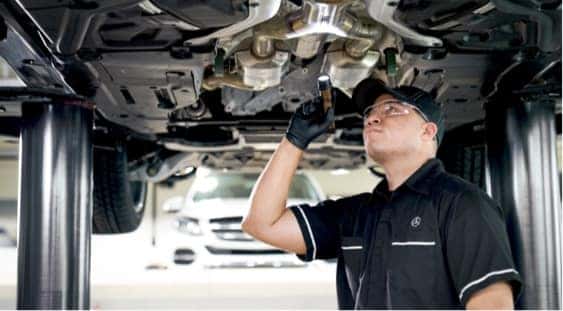 Mercedes-Benz maintenance at the dealership
Need to have your car serviced, but not sure where to take it? Generally speaking, you have three options: A certified dealer's service center, a chain repair shop, or a smaller independent garage. In most cases, it's the first which is going to offer you the best service, for a variety of reasons. At our Mercedes-Benz Kitchener-Waterloo dealership, we don't just facilitate the sale of high-end luxury vehicles, but we also include the services that go along with those quality cars. There are many benefits of getting Mercedes-Benz maintenance at the dealership and in this blog by Mercedes-Benz Kitchener-Waterloo, we share some of those benefits. 
Click here to learn more about our limited-contact service appointments at Mercedes-Benz Kitchener-Waterloo due to COVID-19. 
While under warranty, you're covered! 
The first and perhaps foremost reason for many drivers to seek servicing at a dealership lay in the difference in how your warranty will impact the visit. If your car is under a manufacturer warranty or an extender dealer warranty, then third party service will inevitably cost you more. Just as importantly, many forms of servicing must be performed by a certified technician to keep your warranty valid. You can get your tires rotated and oil changed wherever you like, but any heavy work should be left to authorized parties.
Only certified technicians work on your Mercedes-Benz
There's a good reason your warranty probably requires dealership servicing as part of its terms: the mechanics who work on your car when you take it to a certified dealer will be certified by the manufacturer to work on your car. That means they'll understand the ins and outs and specifics of your car, an important point given the increasingly diverse and complex technology found in cars at all price points.
Your Mercedes-Benz is worked on with only specialized equipment
For some drivers, a third-party mechanic isn't even a real option, because their car will need specialized equipment for proper service. And outside of those cars which absolutely require some specialized tool operated by a certified technician, you have ten times as many which are best serviced with specialty equipment, even if that equipment isn't strictly necessary. In a broader sense, the facilities used in servicing a car at a dealer will almost certainly be superior to a local garage. These service locations will be modern facilities loaded with cutting edge equipment.
Quality and sourcing of parts 
Because the service you're receiving at a dealer service center is officially supported by the manufacturer, you can be certain your car will receive all original parts as needed, and at a better price than a third party garage, even if that garage maintains appropriate supply lines for original parts. Of course, this means you can't opt to save money with third-party alternatives, but installing those adds risk and violates most warranties anyway. It's worth noting that in cases where supplies are limited or slow for any reason, it becomes even more important that you go to a certified dealer's service center instead of a smaller garage, as official service requests will be of higher priority. This also combines with familiarity and superior equipment to result in a much faster turnaround for dealer service centers.
As you can see, there are many benefits that can be experienced with Mercedes-Benz maintenance at the dealership. At Mercedes-Benz Kitchener-Waterloo, we take our maintenance services very seriously. We encourage you to continue browsing through our website to learn more about our limited-contact COVID-19 service appointments or to learn about the Pfaff Difference. 
Click here to find our contact information, schedule a service appointment, or to speak with a representative.