Mercedes-Benz GLE-Class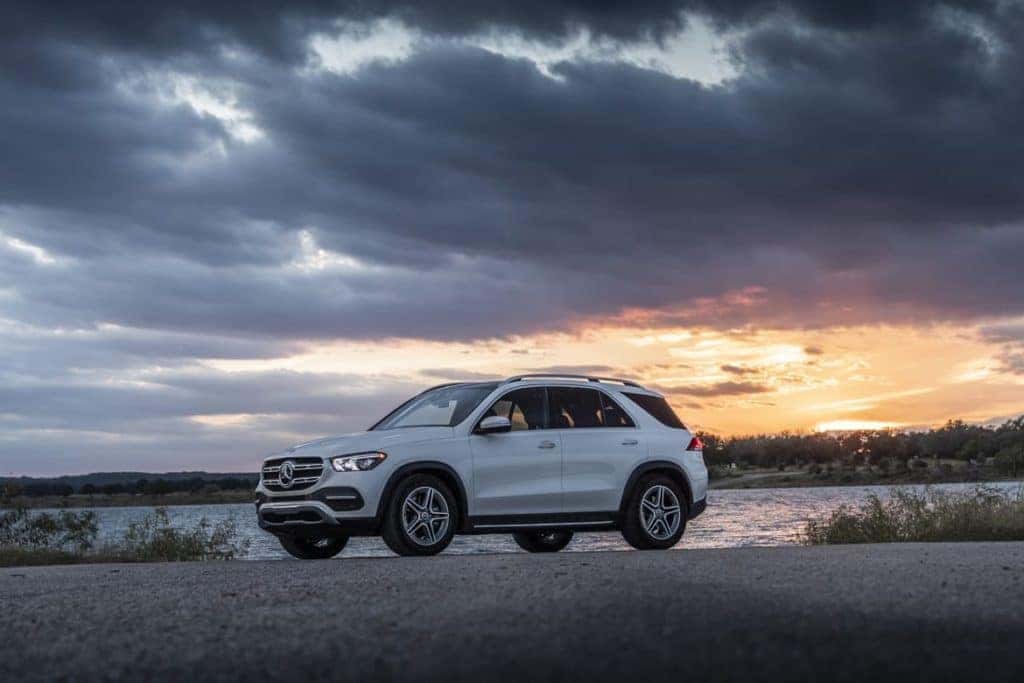 Mercedes-Benz GLE-Class
The 2020 Mercedes-Benz GLE-class marries a luxurious cabin and a potent powertrain in a ruggedly handsome package. It's the latest in a long line of luxurious off-roaders that started back in the late 1990s with the introduction of the M-class and has many different features and looks than the version it replaces. Kitchener customers can find a Mercedes-Benz GLE-Class at our Mercedes-Benz Kitchener-Waterloo dealership! If you are looking for a new high-end SUV then a Mercedes-Benz GLE-Class could be the right fit for you. In this blog by Mercedes-Benz Kitchener-Waterloo, we talk about some of the features of the Mercedes-Benz GLE-Class.
Click here to begin browsing through our inventory of vehicles at Mercedes-Benz Kitchener-Waterloo!
Design
The luxury SUV that started the segment once again leads the way. Roomier, with an 80mm-longer wheelbase, it's also more agile and aerodynamic. And from LED headlamps to a bold yet elegant cabin, it wraps first-in-class tech in finely tailored style. From its iconic Star to its broad rear shoulders, the new GLE shows its well-toned muscles on every surface. Standard 20-inch wheels are among seven choices up to 21 inches, several paired with even more athletic Sport and Night Package options. Beautiful by day, the GLE cabin grows even more captivating when night falls. Standard 64-colour LED ambient lighting lets you create an atmosphere to suit your mood. You can even call up motifs that use multiple hues together or in dynamic sequence.
Performance
Countless SUV firsts came to market with the GLE's previous generations. For 2020, the GLE's new advancements in performance, efficiency, handling and capability aim to benefit future generations. All while inspiring drivers in the here and now. A new 255-hp turbo engine powers the GLE 350. The 362-hp turbo inline-6 in the GLE 450 is also electrified: Its EQ Boost Integrated Starter-Generator can seamlessly add up to 21 hp yet allow gas-free coasting and lower emissions.
Innovation
The Mercedes-Benz User Experience (MBUX) is high tech with a human side. Speak naturally, and it listens, learns, and helps by controlling features or finding destinations. You can also control it via any of three convenient touch interfaces. A 12.3-inch touchscreen, console touchpad, and steering-wheel Touch Controls give you input choice beyond your voice. MB Navigation's augmented reality feature shows live video of where to turn. And Apple CarPlay™ and Android Auto are standard as well. Mercedes me connect makes ownership easy. Access Remote Start or Lock/Unlock, see your vehicle status, or schedule service, all from your phone. MBUX can update itself in your driveway. And in-car WiFi for up to eight devices is available for a low monthly rate.
Why buy from Pfaff?
The Pfaff difference is all about selling you a car the way you want to buy it. We're no longer operating with old-school sales tactics where different customers get different deals.
With upfront pricing, you won't have to negotiate. We won't add any additional fees to your deal. If you have a vehicle to trade, we will give you a written offer with no obligation to buy any of ours. And you can't buy the wrong car with our return and exchange policy.
Visit us today to experience the Pfaff difference.
If you are looking for a new SUV to drive in Kitchener, then a Mercedes-Benz GLE-Class could be the right choice for you. At Mercedes-Benz Kitchener-Waterloo, we have a very large selection of GLE-Class vehicles. Click here to find our contact information, schedule a test drive, or to speak with a representative.