Mercedes-Benz F1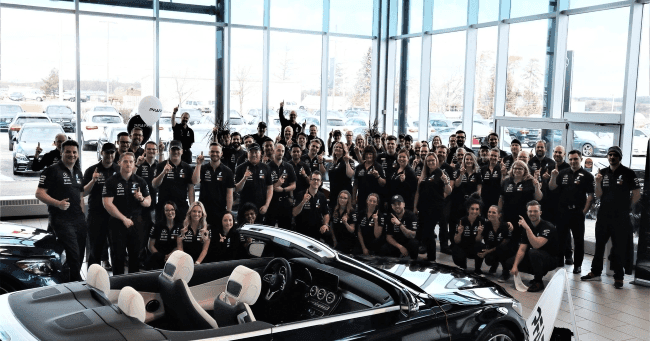 Mercedes-Benz F1
Mercedes-Benz has been making waves in this year's Formula One Championship, as the brand races under the name of Mercedes-AMG Petronas Motorsport, and is leading the way for 2019. They have a history of breaking records and winning titles in recent years, propelling Mercedes-Benz to the top of the racing industry. At Mercedes-Benz Kitchener-Waterloo, we take pride in cheering them on, as the brand's team continues to succeed. To learn more about Mercedes-Benz and their amazing F1 history, keeping reading below!
History Of Winners
Mercedes-AMG Petronas Motorsport has become one of the most successful teams in recent Formula One history, as they have maintained their wins for Drivers' and Constructors' Championships consecutively from 2014 to 2018. This elite brand's team broke the record for one-two finishes in 2014 with 11 wins and broke it again the following year with 12 one-two finishes. In 2014 and 2015, Mercedes-Benz collected 16 victories each year, furthering that record to 19 wins in 2016, breaking both McLaren and Ferrari's records in the process.
2019 Formula One Championship
The 2019 FIA Formula One World Championship marks the 70th running of the F1 World Championship this year. This ongoing motor racing championship is recognized as the highest class of competition for open-wheel racing cars, as stated by the governing body of international motorsports, the Fédération Internationale de l'Automobile (FIA).
This year's championship began in March and will continue until December, consisting of 21 Grands Prix races. Drivers are competing for the title of World Drivers' Champion, while teams are vying for the World Constructors' Champion.
Mercedes-Benz Champions
Lewis Hamilton is the defending World Drivers' Champion, having won 5 championship titles previously. He races for Mercedes, who is also the defending World Constructors' Champions, having won their fifth consecutive championship last season. The 2019 F1 Championship has seen two races already completed, as Valtteri Bottas, Hamilton's Mercedes teammate, won the Australian Grand Prix on March 17th, while Hamilton won the Bahrain Grand Prix on March 31st. We are sure more success is on the way for the Mercedes-AMG Petronas Motorsport team for the 70th Championship run this season!
Upcoming Races
Next up for the Grands Prix in the 2019 World Championship is the Chinese Grand Prix at the Shanghai International Circuit on the 14th of April. We will be cheering the Mercedes-Benz F1 team on here at Mercedes-Benz Kitchener-Waterloo, will you?
For information about Mercedes-Benz amazing lineup of 2019 models, please click here to find our contact information online, and send us a message with your inquiry, give us a phone call, or visit us in person at our facility at 125 Centennial Road, Kitchener.