Mercedes-Benz Certified Pre-Owned Vehicles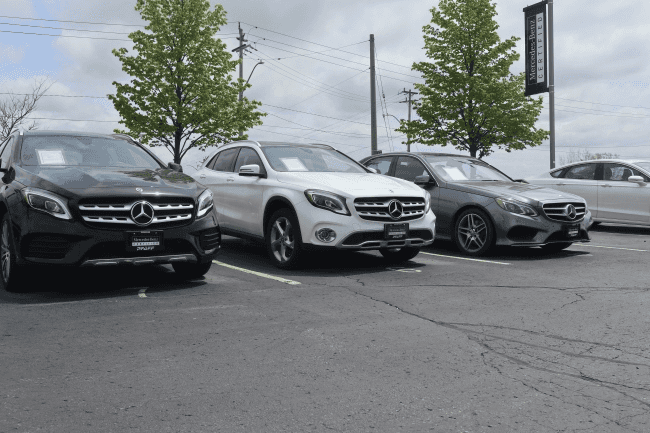 Mercedes-Benz Certified Pre-Owned Vehicles
Safe, luxurious, performance-oriented and affordable- something all of our Mercedes-Benz Certified Pre-Owned vehicles have in common here at Mercedes-Benz Kitchener-Waterloo. If you live in Kitchener or Waterloo area and are looking for a high-quality luxury used cars, then our dealership is the place to go! To find out more about our extensive pre-owned collection, take a look at what we have to say below, before heading over to our dealership to experience our high-end inventory firsthand!
Only The Best
For a used Mercedes-Benz to become a part of our Certified Pre-Owned collection, each one must first be put through a long list of tests, and a rigorous examination process at the hands of highly knowledgeable factory-trained technicians. The engine is tested, fluids and electrical systems are checked, the undercarriage and drivetrain are inspected, the appearance must be up to standard, and all over safety, security, and solidity are all given due attention. Finally, an on-road evaluation seals the Certification- all performed to provide our clients with the brand's highest quality pre-owned models.
Peace Of Mind
Gain peace of mind for the road ahead thanks to the Mercedes-Benz Star Certified Pre-Owned Warranty attached to every model that falls under this category, as well as the remaining term length of the original warranty coverage for further protection. Your new car-purchase will also grant you free access to the brand's 24/7 Roadside Assistance package, offering customer service throughout Canada when you need it the most, you'll never be stranded without help again.
Ongoing Specials
With our Financing experts in tow, they can help you make your Certified Pre-Owned deal even better by applying all applicable incentives and current monthly specials. Our Certified Pre-Owned specials are hand picked by our knowledgeable staff to provide you with the best deals possible.
Start The Process Today
To find the highest quality Mercedes-Benz Certified Pre-Owned vehicles, all one has to do is stop by Mercedes-Benz Kitchener-Waterloo, conveniently located at 125 Centennial Road in the Kitchener community. Our friendly brand representatives are ready and waiting to unite you with your dream sedan or SUV this summer season, so hurry down today to take advantage of these great offers!
Please feel free to continue to browse our website at your leisure, or click here to find our contact information online, and fill out our contact form to learn more about the brand's Certified program, and our July specials currently on now.