Mercedes-Benz C300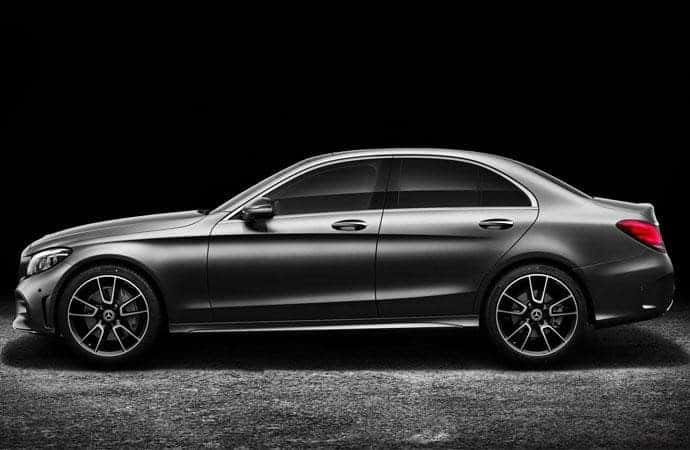 Mercedes-Benz C300
A new year brings with it new opportunities, refreshing ideas, and never before had experiences. It can also bring never before seen innovation, and groundbreaking designs, as 2019 reveals a new generation in class and comfort, with the Mercedes-Benz C-Class sedan, now on offer at Mercedes-Benz Kitchener-Waterloo. Please read on to learn how this year's model goes above and beyond your current driving experience.
Brash
Assert yourself on and off the road with this spectacularly executed piece of machinery. Dominance is just part of the driving experience when you get behind the wheel of the C300 4MATIC Sedan, or it's AMG C 43, and C 63 counterparts.
The 9G-TRONIC transmission provides you with nine speeds to help keep the turbo engine's power on point, while three overdrive ratios grant you relaxed highway driving for superior handling.
With DYNAMIC SELECT take control of your drive even further and choose between five performance modes that allow you to shift points, throttle response, steering feel, and more. Drive bold when you drive the 2019 C-Class.
Bold
The bold exterior design combines beautifully with the plush interior, bringing drivers and passengers all of the elegance and comfort that this luxurious automotive brand is known for.
Five options of hand-finished wood trim bring you the ability to personalize the interior of your new sedan, while six wheel options allow for the total authority of the exterior. The C300 comes standard with sporty 17-inch alloys, or splash out and ride in style with five additional options in 18-inch and 19-inch sizes, including four AMG designs.
Brilliant
The technological features of the refreshed C-Class sedan are as brilliantly rendered as they are savvy. Whether you want a vehicle packed to the brims with assistive technology, or you are looking for convenience at your fingertips, this revitalized model has it all.
Available drivers assist allows for added help during lane changes, highway exits, imminent collisions and more, providing critical support to the driver when they need it most. Available Apple CarPlay, Android Auto, and COMAND connects your car to your smartphone while providing voice control and navigation services for superior convenience.
Visit Us
Be brash, be bold, and be brilliant, on and off the road with this year's Mercedes-Benz C300. Propel your driving experience to new heights. Test drive the C-Class sedan today when you visit us here at Mercedes-Benz Kitchener-Waterloo, located at 125 Centennial Road in Kitchener.
Please feel free to continue to peruse our website at your leisure, or click here to find our contact information, fill out our contact form for further assistance, or schedule that test drive right away!