Explore electric vehicles from Mercedes-EQ DETAILS
The 2018 Mercedes-Benz C-Class safety features aren't just impressive by the standards of other luxury sedans – they are impressive by the standards of the automotive industry as a whole. This model is equipped with sophisticated technologies designed to help drivers avoid accidents, collisions, and hazards of all types. As a result, every trip around Waterloo is enhanced with protections and safeguards. Learn about some of the highlights before touring the C-Class inventory at Mercedes-Benz Kitchener-Waterloo in Kitchener.
2018 Mercedes-Benz C-Class Safety Features
PRE-SAFE PLUS
A series of finely-tuned sensors detect when a collision is imminent and then automatically tightens the seat belts, rolls up the windows, and takes other measures to minimize the damage of the impact.
Speed Limit Assist
Smart technologies monitor the speed limit and then display the posted limit on the vehicle's display screen. You end up driving safer while avoiding speeding tickets as well.
Active Brake Assist
If the vehicle detects that the driver is attempting to apply emergency braking pressure, the vehicle will automatically apply full braking pressure. This helps to minimize the total stopping distance and overcome the natural tendency to not brake hard enough.
Active Blind Spot Assist
If a vehicle is present in your blind spot, an icon appears on the side view mirror. If you indicate that you plan to shift into that lane, an alarm will sound and the vehicle will guide you away from the problem area.
More 2018 Mercedes-Benz C-Class Safety Features
The cabin of this sedan is equipped with nine air bags so that every passenger receives ample protection in any kind of collision. An innovative technology called ATTENTION ASSIST is also available, and it monitors for signs of drowsiness and warns the driver about the dangers of fatigue. Among the many standard safety features is a rearview camera that makes it easier to get in and out of tight spaces while avoiding dangers behind the vehicle.
The 2018 C-Class Excels at Everything
This is the perfect model for cruising around downtown Kitchener or for taking longer road trips with family and friends. Mercedes-Benz Kitchener-Waterloo has all the resources you need including easy financing and service assistance. Make your way from Guelph to our dealership soon for a complete tour and test drive, and contact us in the meantime with any of your questions.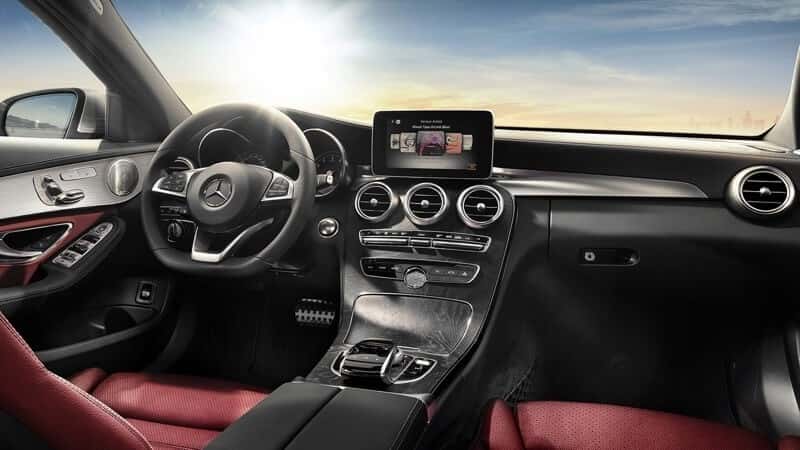 More From The 2018 Mercedes-Benz C-Class