Mercedes-Benz C-Class Review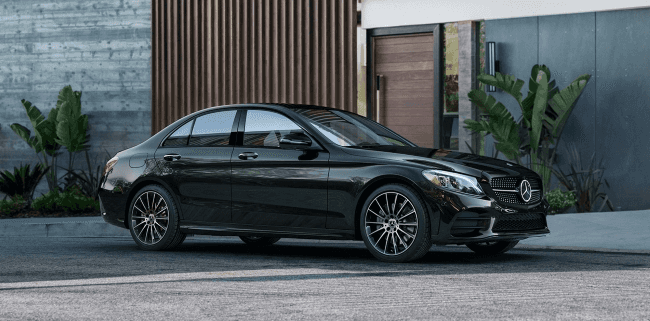 Mercedes-Benz C-Class Review
Sleek and sophisticated, the latest C-Class model is sure to become the envy of all when you drive up to your destination in this high-end Mercedes-Benz sedan. For those looking to take their mode of transportation to a new, classy level, consider this exciting addition to the brand's elite lineup. In this article by Mercedes-Benz Kitchener-Waterloo, we will delve into our Mercedes-Benz C-Class review, so stay tuned before heading over to our Kitchener dealership to test drive one for yourself!
Always Powerful, Always Ready
Thanks to this Mercedes-Benz's engine, take advantage of the combined power of twin-scroll turbo, Direct Injection and CAMTRONIC valve adjustment and utilize the 255 horsepower at your disposal. The 9G-Tronic transmission is always at the ready, providing the driver with quick and smooth transitions as the shift paddles let you take charge of its nine speeds and three overdrive ratios.
All Within Arms Reach
The cabin of the C-Class has been built like an intuitive cockpit, with all command buttons standing at the ready, always within arms reach. The steering wheel possesses an integrated touchpad, so you can stay in control of your car without having to take your hands from the wheel. Scroll, swipe, and select all of the system's convenience and entertainment features to keep things exciting for your journey, while staying safe and attentive to the changing road conditions ahead.
Glide In Style
This sedan comes equipped with sporty 17-inch alloy wheels to grip any surface and glide down highways in style. With five more wheel choices to choose from, customize the look of this C-Class to your style and driving needs with 18-inch, 19-inch, and four AMG designs. Pair your desired wheels with the sedan's 4MATIC all-wheel-drive system for control in every instance.
Test Drive Today
With our Mercedes-Benz C-Class review fresh in your mind, why not stop by Mercedes-Benz Kitchener-Waterloo this July to take one for a test drive? Visit our Kitchener dealership conveniently located at 125 Centennial Road in Kitchener to take advantage of our extended, at home, and overnight test drive options and experience the superior nature of this sleek sedan today.
Please feel free to continue to browse our website at your leisure, or click here to find our contact information online, and fill out our contact form to learn more about our available C-Class trims, or to schedule a test drive option that works for you.