Mercedes-Benz A Class Review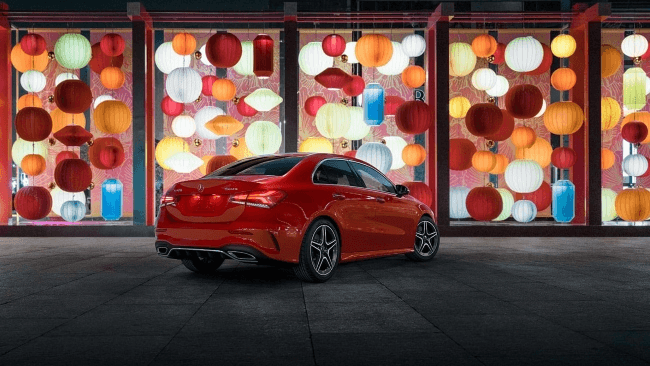 Mercedes-Benz A Class Review
Assert your dominance over the road, in the sleek and stunning A-Class sedan, currently on offer here at Mercedes-Benz Kitchener-Waterloo. Drivers looking to purchase a new vehicle, one that can equip them with total power, performance, and luxury should consider visiting our dealership and test drive this fantastic model today. This article will delve into a Mercedes-Benz A-Class review, so please keep reading to find out how this sedan could serve you in your time of driving need.
Ageless Design
All clean lines and muscular build, the aggressive stance of this Mercedes-Benz model was designed with the future in mind. The ultramodern exterior and interior offer a glimpse of the automotive future, as it brings it to the hear and now, for an eye-catching sedan that never gets old. Outfit this model in the Sport Package or Night Package, and gain even more luxury and class in the process.
Agile Handling
The athletic build of this fine machine only hints at the true capabilities within, as the A offers drivers turbo power, seven speeds, four drive modes, and a lowered suspension for thrilling rides every time. With DYNAMIC SELECT attain a fine-tuned machine capable of four driving modes, accessed through a tap of a console button. Vary shift points, throttle response, steering feel, and more when you have the option between ECO, Comfort, Sport, and a highly customizable Individual mode.
Adaptive Driving
Confident and composed, flex the muscles of the A and effortlessly sprint down any road, thanks to the independent suspension at all four wheels, and experience the sure-footedness of the variable-torque 4MATIC working under you for complete traction on any surface. This system is capable of sending instant power from the front to the rear wheels, responding to the available traction, and producing driving confidence in every instance.
Visit Us
There are many words to describe the superior nature of the A-Class, average is not one of them. With our Mercedes-Benz A-Class review fresh in your mind, now is the time to experience the capable nature of this sedan today! Visit us at Mercedes-Benz Kitchener-Waterloo, and our world-class facility at 125 Centennial Road, in Kitchener, to get behind the wheel of your desired variant to witness firsthand just how exciting a Mercedes-Benz can be.
Please click here to find our contact information online, and learn more about our dealerhip's great offers, or schedule that test drive right away!