Mercedes-Benz 2020 GLE SUV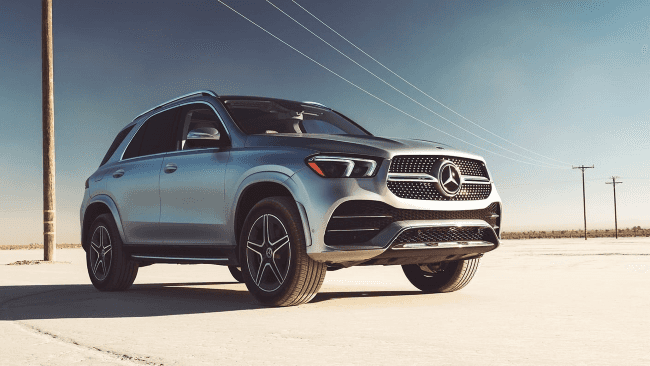 Mercedes-Benz 2020 GLE SUV
Stylishly redesigned, yet encapsulating everything that made it the must-have SUV model of the industry, the Mercedes-Benz 2020 GLE SUV is back in action, and ready to take on the world. Innovative to its core, and superior in its performance, this vehicle offers drivers more of everything. In this article by Mercedes-Benz Kitchener-Waterloo, we are delving into the details of the latest SUV model from this elite brand, as it takes up its commanding position in our showroom.
Your Ride, You Decide
It's smooth sailing with this SUV, as you glide down city streets and backcountry roads on standard 20-inch wheels, with the choice of six other wheel options up to 21-inches, for added prestige. Take your ride to the next level when you choose to outfit your new Mercedes-Benz with the Sport or Night Package options to tailor your vehicle just how you like it. And with 11 elegant paint finishes to choose from, it is easy to achieve a personal touch and turn heads wherever you go.
Comfort Without Compromise
The popular model is back and roomier than ever, thanks to the 80mm-longer wheelbase, and a new 3rd-row seating option that can fit seven passengers comfortably. Equip your sport utility vehicle with this added row, and gain 6-way power-adjustment of the second row, plus power-folding of the outer seatbacks for easy access to the third row.
The Most Intelligent SUV Yet
What's more sleek and sophisticated than a touch screen on your phone? A touchscreen for your car, of course! A 12.3-inch touchscreen, console touchpad, and steering wheel Touch Controls offer you direct access to the brand's cutting-edge technology, the Mercedes-Benz User Experience (MBUX), directly at your fingertips. Pinch the screen, swipe on the wheel, or handwrite on the console for total touch euphoria. And with natural speech recognition, seamlessly turn your words into actions, as the MBUX uses Artificial Intelligence to learn your everyday phrases and habits. The system can also update automatically, downloading the latest updates and information to always stay relevant.
Test Drive Today
Would you like to experience all that the Mercedes-Benz 2020 GLE SUV has to offer? Getting behind the wheel of this highly intelligent and capable SUV is easy when you visit us here at Mercedes-Benz Kitchener-Waterloo to test drive the latest addition to the brand's high-quality lineup.
Please click here to find our contact information online, and fill out our contact form for further assistance, or book that test drive today.