Learn about the Mercedes-Benz Driving Academy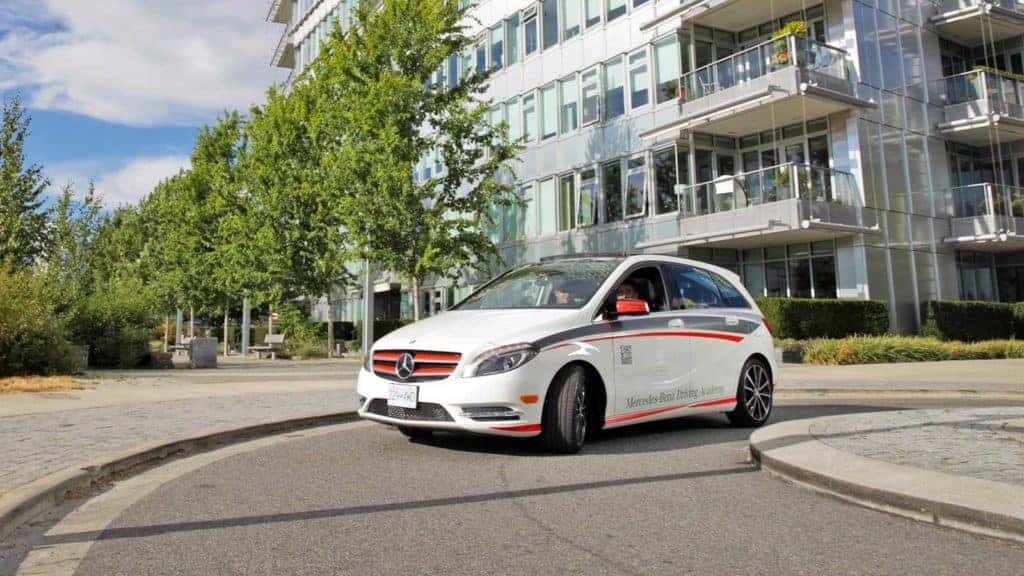 Learn about the Mercedes-Benz Driving Academy 
Do you want driving lessons from the best driving school? Mercedes-Benz Driving Academy for New Drivers uses a proprietary curriculum based on International research which is the first of its kind in Canada. The academy has discovered the best practices from around the world and designed their programs especially for you, the Canadian driver. Students learn to take full responsibility for their driving during their driving lessons, right from the start. This results in new drivers who are better prepared when they begin to drive solo. Are you looking for more information about the Mercedes-Benz Driving Academy? Then you have come to the right place! At Mercedes-Benz Kitchener-Waterloo, we make it our mission to provide our customers and the public with plenty of information about our vehicles and the industry as a whole. In this blog, we share some information about the Mercedes-Benz Driving Academy.
Coaching vs Instructing at the Mercedes-Benz Driving Academy 
The academies instructors are called  "coaches" for a good reason. There is a significant difference between simple instructing and coaching. With coaching, student drivers are expected to think for themselves. They don't get constant instruction on when it's safe to go, reminders to check their mirrors, and so on. These proven methods teach students to take responsibility for decision-making from an early stage. Students who learn to depend on a steady stream of instruction will not be properly prepared to make their own decisions when they drive without a co-driver watching over them. This is a critical period for new drivers, a time when crashes are most likely to happen. The coaching methods ensure students are accustomed to making safe decisions independently when they begin to drive on their own. 
The Mercedes-Benz Driving Academy has programs for everyone
Mercedes-Benz Driving Academy for New Drivers has a program for you, at a price you can afford, whatever your needs. Whether you're interested in a full Graduated Licensing Program (GLP) course or individual Lesson Packages, they have something to help you achieve your goal of becoming a safe driver.
The GLP programs are the most popular. Parents appreciate the academy's focus on the young driver's impulsivity and higher risk tolerance. They transfer decision making and responsibility to the new driver. Students say they really enjoy the classes (way more fun and engaging than what they're used to!) and while learning about driving, they learn important things about themselves, too.
Students like the flexibility of the lesson packages where lesson content is matched to the student's experience levels so instructors can closely address the student's needs. If your goal is preparation for an upcoming road test, evaluating progress, or supplementing the supervised driving plan already in place, the academy has a lesson package that's right for you.
If you are new to driving a Mercedes-Benz vehicle and you are looking for tips on how to safely drive it, then check out a Mercedes-Benz Driving Academy near you. Continue browsing through our Mercedes-Benz Kitchener-Waterloo website for more information about our dealership and our vehicles. Click here to find our contact information or to speak with a representative.