Find Certified Pre-Owned Cars In Kitchener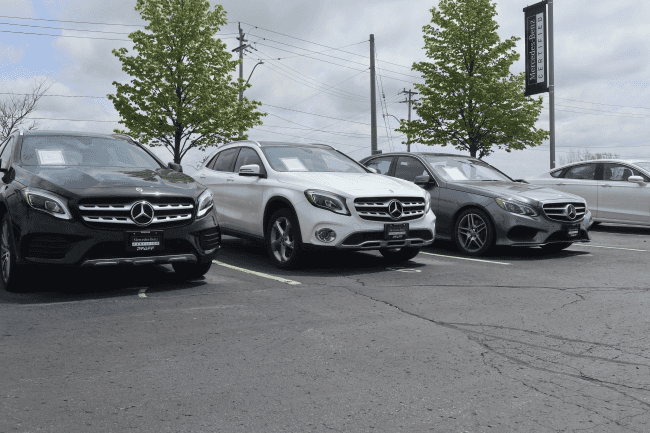 Find Certified Pre-Owned Cars In Kitchener
In this day and age, it is easier than ever to locate and acquire a high quality used vehicle thanks to the popular and advantageous Certified Pre-Owned programs coming out of the top brands in the automotive industry. Car buyers looking to find Certified Pre-Owned Cars in Kitchener can easily do so here at Mercedes-Benz Kitchener-Waterloo. Our dealership is well stocked with like-new, yet used, Mercedes-Benz vehicles. So why buy from this innovative program? We have your answers below!
Certification Means Top Condition
Drivers look to this high-end brand to obtain quality vehicles that offer sleek designs, uncompromised comfort and luxury, and optimal performance output. These are all qualities that stand true to our Certified Pre-Owned program, however-much people assume that used equates to second-hand vehicles in poor condition. Rest assured that browsing our Mercedes-Benz Certified collection means accessing the highest quality used vehicles, as each car that obtains this lofty title must first undergo an extensive inspection process at the hands of factory trained technicians.
Meticulous Examination Process
Every Mercedes-Benz must complete this examination process before gaining a place in the Certified program. The vehicles must undergo a 150-point inspection, as our skilled technicians rigorously examine fluids, electrical systems, undercarriage and drivetrain, exterior and interior appearance, safety, security, and solidity, with on-road evaluation and engine testing. Any deficiencies found will be repaired using genuine Mercedes-Benz parts, all as a means to provide you with an inventory of used vehicles that exceed the brand's high standard of quality, reliability, performance, and safety!
Warranty Coverage And Assistive Services
Choosing to purchase a Certified Pre-Owned car not only means acquiring a beautiful, like-new Mercedes-Benz, but you will also receive a great warranty, with assistive services for the duration of the coverage. You'll gain whatever coverage is left on the car in question's original factory warranty, plus the standard Mercedes-Benz Star Certified Pre-Owned Warranty, with the option to purchase our Extended Limited Warranty for guaranteed safety and performance. We will also provide you with access to the brand's nationwide customer service with technical support with 24/7 Roadside Assistance, so you'll never be stranded without help again!
Contact Us
Find Certified Pre-Owned Cars In Kitchener when you choose to visit us at Mercedes-Benz Kitchener-Waterloo and reap all of the benefits this program has to offer you. Stop by our dealership at 125 Centennial Road in Kitchener, and browse our quality inventory today!
Please feel free to continue to peruse our website at your leisure, or click here to find our contact information online, and fill out our contact form to learn more about this amazing program.