Find A Mercedes-Benz Sprinter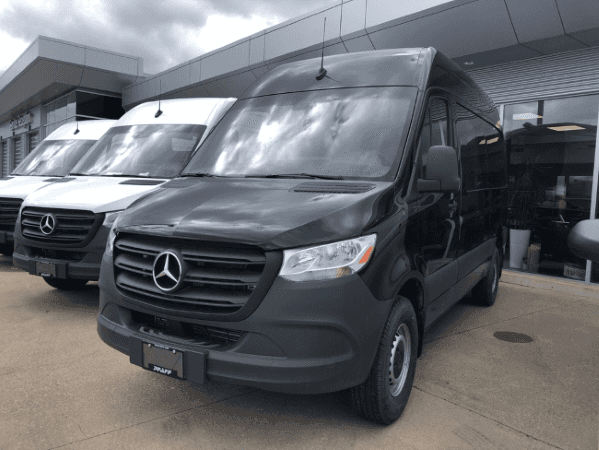 Find A Mercedes-Benz Sprinter
If you are in need of a reliable, capable, and cost-effective vehicle to help you and your business succeed in life, then we want to help you achieve the highest level of success that you can! At Mercedes-Benz Kitchener-Waterloo, you can find a Mercedes-Benz Sprinter van that works for you, every day of the year. To learn more about our Sprinters, and how they can help your company, please continue to read through this article below.
A Van For Every Job
Our Sprinter collection includes cargo vans, passenger vans, cab chassis, and crew vans to help equip our customers with the vehicles they need to get any job done right. We understand how vital quality vans are for small and large business owners alike, as they need to be entirely reliable for any endeavour to be successful. For this reason, Sprinters have been expertly engineered to provide an extended maintenance interval of up to 30,0000 kilometres, so your van can spend more time on the road and getting the job done, then in the garage for servicing.
Best Value In Its Class
Compared to other brand vehicles in its class, Sprinter vans offer owners higher value retention, depreciating at a much lower rate than its competition, and boasts the highest resale value of the lot. By obtaining this quality Mercedes-Benz commercial vehicle, you'll gain maximum return with minimum expense, making it the perfect purchase for any business person.
Take Your Business Further
As the single-highest operating expense a vehicle incurs, fuel costs can be a pain to deal with, especially as prices continue to rise. By driving a Sprinter, you can offset these costs, as this van has the lowest fuel consumption of any vehicle in its class. Thanks to the powerful diesel engine working under the hood, you can over 40% when compared to the competition's gasoline-powered vehicles. 
Award Winning
The Mercedes-Benz Sprinter van has been voted Vincentric Best Fleet Value in Canada™ from 2012 to 2018, for seven straight years of dependability. On top of this prestigious award, this model has won the Canadian Black Book Best Retained Value Award in the Full-size Van category, for unrivaled value retention, 8 years running.
Contact Us
Find a Mercedes-Benz Sprinter at Mercedes-Benz Kitchener-Waterloo, and you and your business can obtain the hardest working van on the market.
If you would like to know more, please click here to find our contact information online, and send us a message with your inquiry, give us a phone call, or stop by our facility at 125 Centennial Road, in Kitchener today.