Find A Mercedes-Benz G Wagon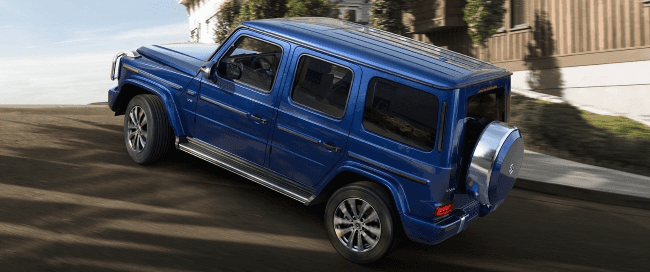 Find A Mercedes-Benz G Wagon
Revitalized and reimagined, the new G-Class is here and is as stunning and powerful as ever. This classic model has spent the last forty years conquering terrain throughout the world and is now back to advance your journey further. Nearly every component that makes up this capable vehicle is new, but the classic character and iconic design still encompass everything that made this Mercedes-Benz so iconic and memorable in the first place. You can find a Mercedes-Benz G Wagon right here at Mercedes-Benz Kitchener-Waterloo, so please read on to learn more about this beast of a machine, and what it can do for you!
High-Performance Prowess
A lofty 416 horsepower and 450 lb-ft of torque are yours to do with as you see fit, as the advanced biturbo V8 works under the hood to help you achieve acceleration from 0 to 100 km/h in just 5.9 seconds. This vehicle isn't just powerful, as it also works to save you fuel thanks to the CAMTRONIC system that can seamlessly deactivate cylinders.
Ultra Modern Cabin
Improved in every way, the new G Wagon brings added comfort, convenience, and entertainment to every drive, no matter where the road takes you,  even if there is no road at all! The latest cutting-edge technology is at your disposal, as this cabin offers control over 64-colour choices for it's LED ambient lighting, with luxurious and natural wood finishes, for the perfect touch.
The sunroof has been updated using heat-rejecting glass to help keep your cabin at the exact temperature you dictate, with 3-zone climate control now standard. The longer body design provides added space in every instance, with a range of seating options that will see your G-class cradling your body in hand-fitted leathers and a hot-stone massage on every journey.
Your Choice, Your G-Class
With dozens of gloss and matte paint colours to choose from, and various 19-inch and 20-inch wheels to equip your G-Class with, you can create a Mercedes-Benz all your own. Outfit your chosen model with the Sport Package or Night Package, and render your Wagon in elegance and class.
Confident And In Control For Any Drive
A suite of safety advancements have been placed in this new model, as Standard Drive Assist, with Blind Sport Assist, Active Lane  Keeping Assist, Active Distance Assist DISTRONIC cruise control, and Traffic Sign Assist work for you under the hood and behind the wheel. And a new independent, double-wishbone suspension,  rigid rear axle and electric power steering work together to deliver precision handling, and enhanced off-road capability and comfort anywhere, at any time.
Find a Mercedes-Benz G Wagon here at Mercedes-Benz Kitchener-Waterloo, and achieve greater things on your next adventure. Please click here to find our contact information online, and schedule yourself a test drive to experience all that the G-Class has to offer!