Features Of The 2019 Mercedes-Benz G 63 AMG SUV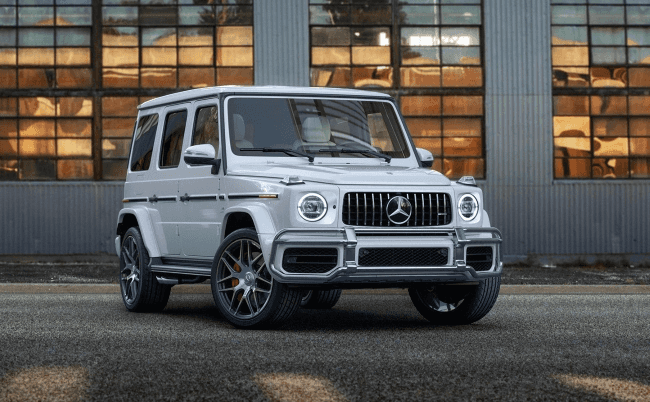 Features Of The 2019 Mercedes-Benz G 63 AMG SUV
Staying true to its roots, yet transforming into a bigger and better version of itself, the modern features of the 2019 Mercedes-Benz G 63 AMG SUV bring added capabilities to this master-crafted classic piece of machinery. Currently available here at Mercedes-Benz Kitchener-Waterloo, our dealership takes a look at the versatile and robust nature of this can-do SUV behemoth.
A Smooth Ride
Answer the call of the wild in complete comfort, braving unpaved roads without having to feel every bump and ditch waiting for you as multimode suspension offers adjustable damping. The signature 4-wheel drive and three lockable differentials allow the driver to traverse any terrain with ease. Successfully overcome all obstacles in the way with the new independent double-wishbone suspension, rigid rear axle and electric power steering, and gain precision handling in the process. Several 19-inch and 20-inch wheels that have been specially made by Mercedes-Benz can be outfitted to this AMG, furthering grip capabilities and connection to the surface underneath.
A Hefty Punch
When it comes to moving a heavy-duty SUV, you need a heavy-duty engine to do the job. Que the advanced biturbo V8, capable of thrusting the full might of the G 550 from 0 to 100 km/h in just 5.9 seconds. Gain control of the 416 horsepower as well as the racing-derived feature, including the CAMTRONIC system, saving you fuel by deactivating cylinders at the opportune time.
Your Comfort Ensured
With such power under the hood, you might not expect this raw and capable SUV to possess such a lush and luxurious interior cabin- but Mercedes-Benz is always ready to excite drivers, passengers, and brand lovers alike with their cutting-edge technology and opulent comfort features. A multi-zone LED ambient lighting system, standard and available technologies including a dual 12.3-inch display, steering-wheel Touch Controls, and innovative voice control are only a few of the amazing features that make their home in this Mercedes-Benz.
Visit Us This July
With just a few of the standout features of the 2019 Mercedes-Benz G 63 AMG SUV fresh in your mind, now is the time to stop by Mercedes-Benz Kitchener-Waterloo to try out this excellent piece of machinery for yourself! Test drive the G 63 at our Kitchener dealership located at 125 Centennial Road this July.
Please feel free to continue to browse our website at your leisure, or click here to find our contact information online, and fill out our contact form to learn more about this classic yet modern model today.