Best Mercedes-Benz Van For Hauling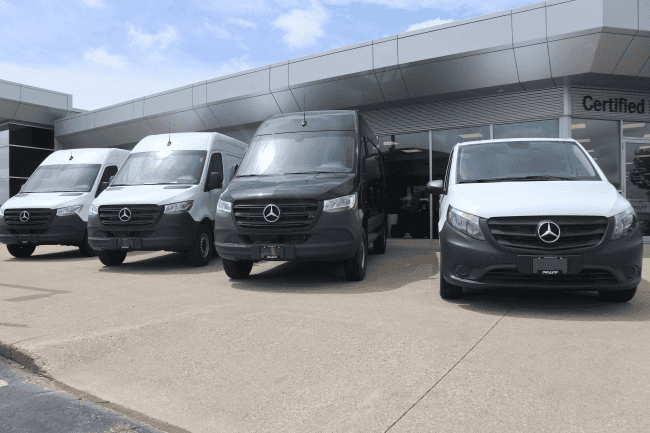 Best Mercedes-Benz Van For Hauling
Are you in need of a heavy-duty vehicle that can provide you with the horsepower and towing capacity to get any job done right? Business owners in the market for a dependable vehicle that can give them everything they would want or need in their company car, or an entire commercial fleet, should consider Mercedes-Benz Sprinter vans for the job, currently on offer here at Mercedes-Benz Kitchener-Waterloo! So what's the best Mercedes-Benz van for hauling, you may ask? Find out the answer below!
Sprinter Cab Chassis
With two capable models to choose from, the Sprinter Cab Chassis 3500 XD and 4500 offers drivers the use of a turbocharged 3.0 L V6 diesel engine delivering power and durability for every ride. Both models possess a 7G-Tronic Plus Transmission and have been engineered with a sturdy yet lightweight design that can support the heaviest of payloads.
This Cab Means Business
When it comes to hauling, this Sprinter is the vehicle for the job. The payload of the 3500 XD Chassis can support 6,356 pounds, while the 4500 trim provides a payload capacity of 7,430 pounds! Both trims can also tow up to 7,500 pounds, so whatever cargo you need to transport, this Sprinter is powerful and durable enough to tow it all where it needs to go!
Safety First
Either Cab Chassis trim comes equipped with Mercedes-Benz's Active Brake Assist. This advanced safety system is the perfect feature for a larger vehicle, as many drivers on the road pay no heed to the trucks around them, cutting them off and creating dangerous driving situations as a result. This innovative system can sense an impending collision with the vehicle ahead, sending a visual and audio warning to the driver while initiating autonomous braking to offset the impact.
Contact Us
You can hire the right vehicle for the job when you think Sprinter! Equip your business with the Sprinter Cab Chassis, and you'll be adding the best Mercedes-Benz van for hauling to your company's roster! Why not stop by Mercedes-Benz Kitchener-Waterloo, and our Kitchener dealership at 125 Centennial Road, and talk to one of our friendly and knowledgeable representatives to learn more about this highly capable model.
Please feel free to continue to browse our website at your leisure, or click here to find our contact information online, and fill out our contact form for further assistance.