Auto Service In Kitchener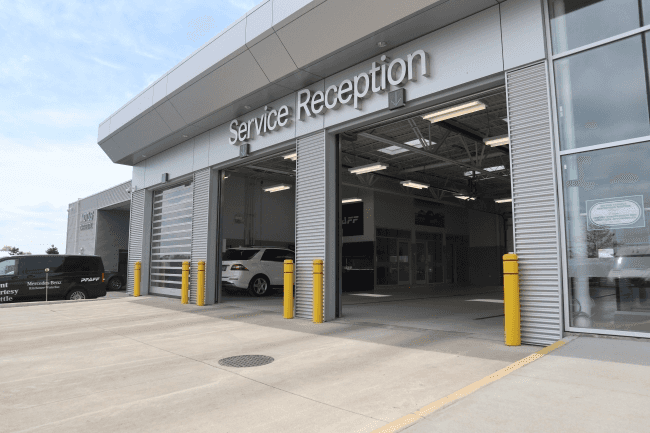 Auto Service In Kitchener
Mercedes-Benz owners that are looking for auto service in Kitchener, that can provide their high-quality vehicles with the attention and care they deserve, should look to us here at Mercedes-Benz Kitchener-Waterloo and our team of technical experts. Our dealership has the industry experience, necessary high-end tools and equipment, and the professional expertise to service and maintain all of this elite brand's vehicle models. To learn more about our services, and what we can do for you and your car, please keep reading through this article before giving us a call to schedule your next maintenance appointment today!
Why Us?
So why should you bring your beautiful, luxury Mercedes-Benz to our dealership for routine maintenance and repairs? With just one visit to our facility, the answer will become apparent! From our warm and welcoming atmosphere and comfortable owners lounge to our extensive services and care, you and your vehicle will gain all of the advantages our professional technicians and representatives have to offer. Customer satisfaction is what drives our company to excel, as we strive to deliver attentive customer care that will have you leaving our facility happy, satisfied, and driving away in your well-oiled, performance-oriented Mercedes-Benz.
Prepaid Maintenance Packages
Keeping on top of your vehicle's require maintenance upkeep doesn't have to be a chore anymore. With our great prepaid maintenance packages, you obtain regularly scheduled routine services that will keep your high-end vehicle in peak condition. This prepaid package won't just save you time and hassle, but you'll benefit from better rates as well, as this option saves on costs compared to pay-as-you-go maintenance services, for an all-over fantastic deal.
Above And Beyond
Everything we do is always for the benefit of our clients. Our state-of-the-art service department possesses the latest diagnostic tools and equipment to aid our technicians in pinpointing any problems your vehicle may have when it comes to performance output. We are well stocked with genuine factory parts, swapping out broken or damaged pieces with components that are tailor-made from the brand. Our facility schedules technicians on night shifts, so our department is always staffed and ready to help our clients with their vehicle needs if something happens outside of our regular service hours.
Quality Auto Service In Kitchener is assured when you choose to enlist the help of our experienced and skilled technical team at Mercedes-Benz Kitchener-Waterloo. Our dealership is conveniently located at 125 Centennial Road in Kitchener, ready to service your Mercedes-Benz model!
Please click here to find our contact information online, and fill out our contact form to learn more about our pre-paid maintenance packages, or schedule a service appointment today.